Stop to Smell the Flowers
Oxford Homes was developing a new community in Mount Albert and needed a splash page they could collect registrants through. We had little branding direction other than A frame signage, and no images of building renderings, amenities or the location. This presented quite a challenge when we tried to design a visual language for them.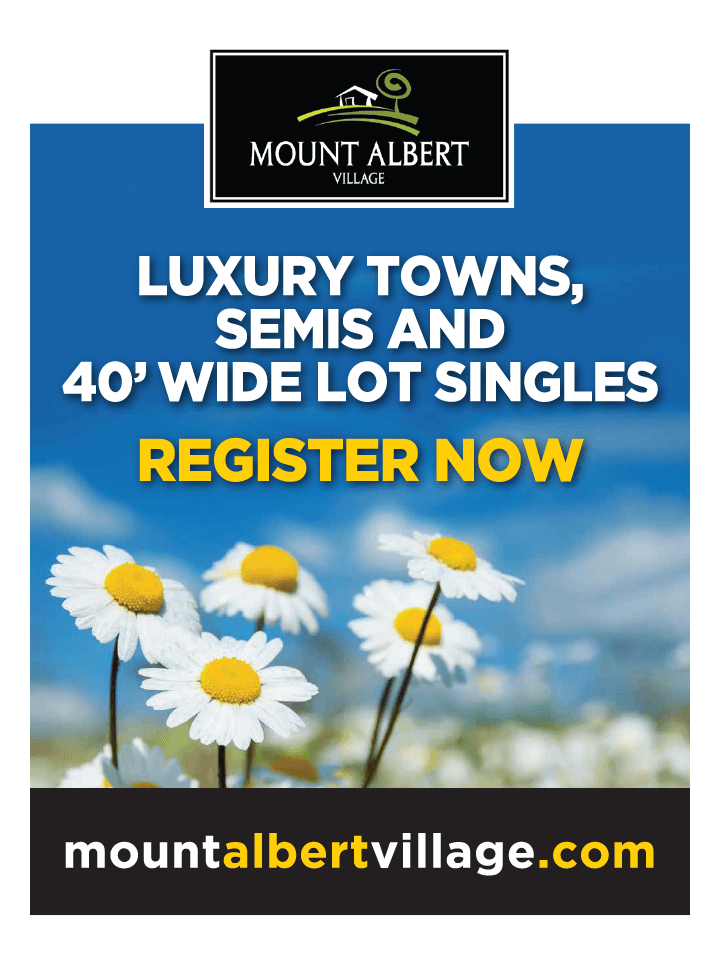 The Insight

With some research (and the help of Google Maps), I found that the patch of land the community would be built on, was actually a daisy field. This worked perfectly with the generic signage image already selected to represent Mount Albert Village.
So I searched for an image that would reposition the brand with a softer, "life is great in the slow lane" kind of feel. The image above served as reference for a new colour palette too.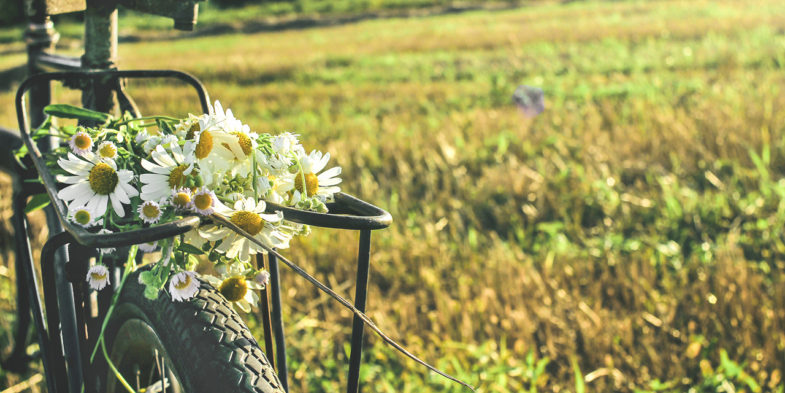 The Brand
Using that single image as reference, we created a colour palette and colour system to use across PPC, social ads, email and website. Anywhere a sign with a daisy was, we wanted potential buyers to associate Mount Albert Village with it.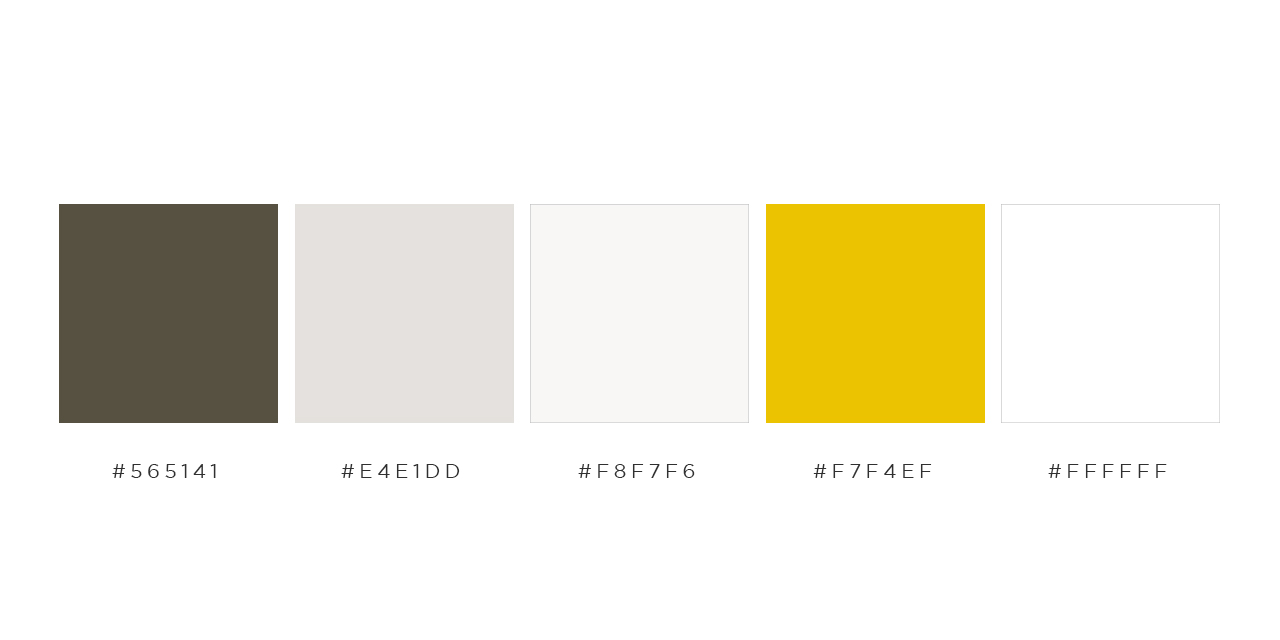 The Website
With new branding in place, we needed to make sure Mount Albert Village's website was also updated. The website was the one place people would be directed to from signage, PPC, and other direct marketing initiatives.
The user journey was fairly simple — get people to register so Oxford Homes could target leads and turn registrants into buyers. I thought through the flow and created the diagram below, to help capture the journey and communicate the vision to our dev team.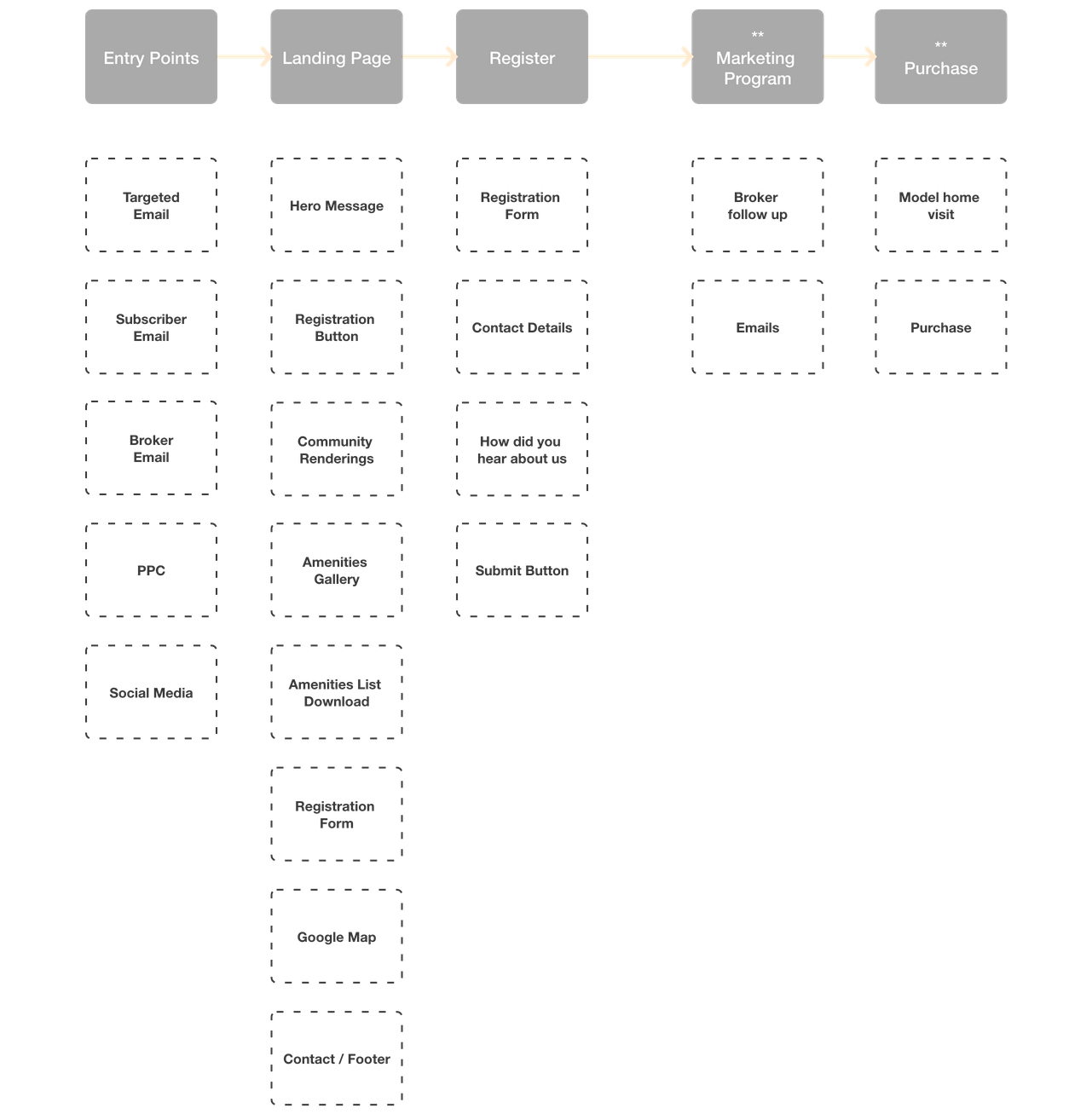 Wireframes
Once the user journey was approved, I moved on to creating wireframes of what the new website could look like. We wanted the look to be modern and simple; after all, we were promoting homes to people who enjoyed life in the slow lane. No bells, whistles, or overly stimulating visualizations were needed. I created two layout designs, with the later selected for development.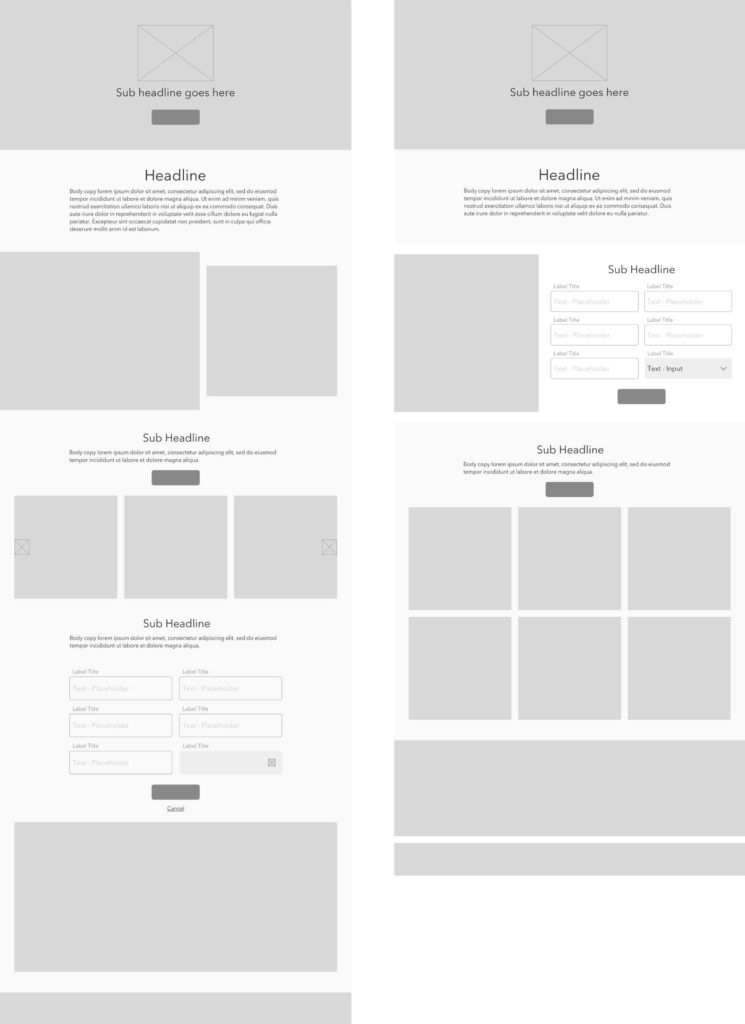 The Final Look
Now the fun part began! I used photography the builder had commissioned of the community; and sourced any remaining photos. The new colour palette was applied and brand tone considered for all the copy. Mount Albert Village's website was finally brought to life.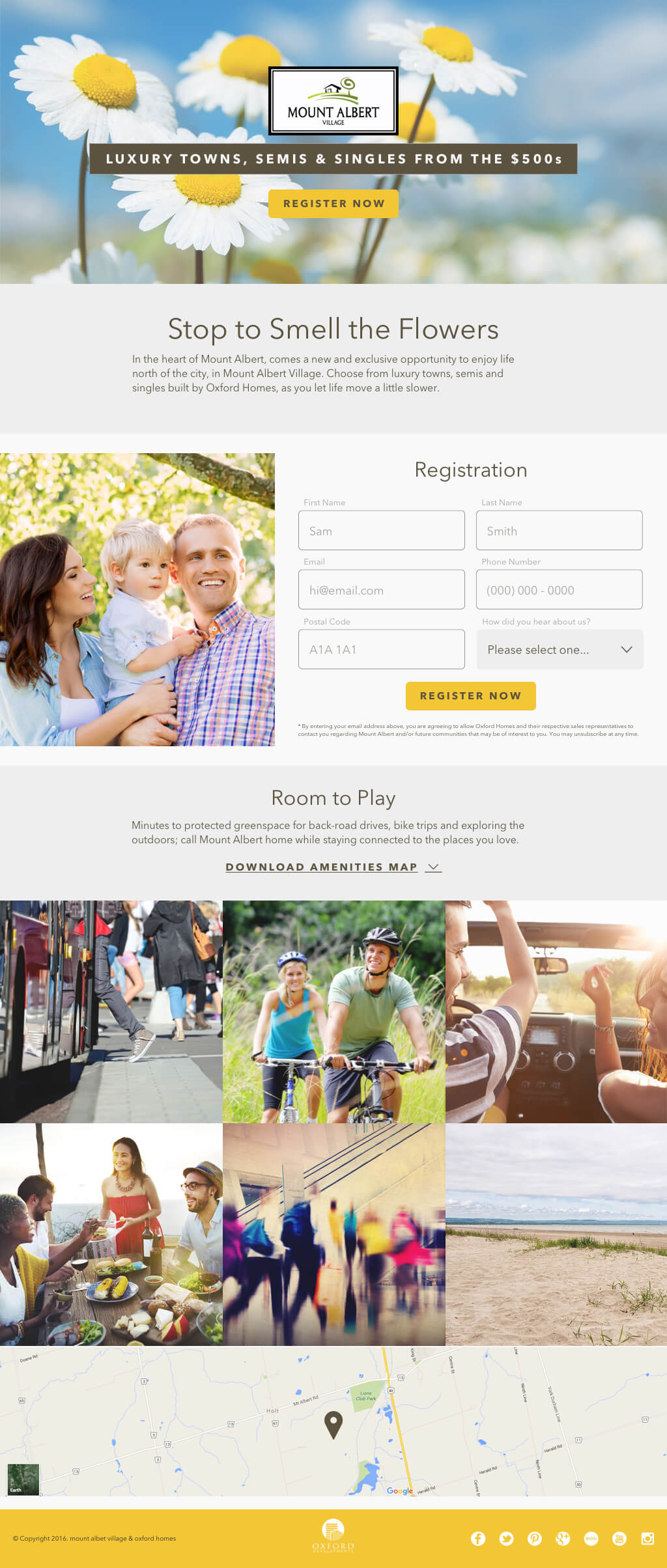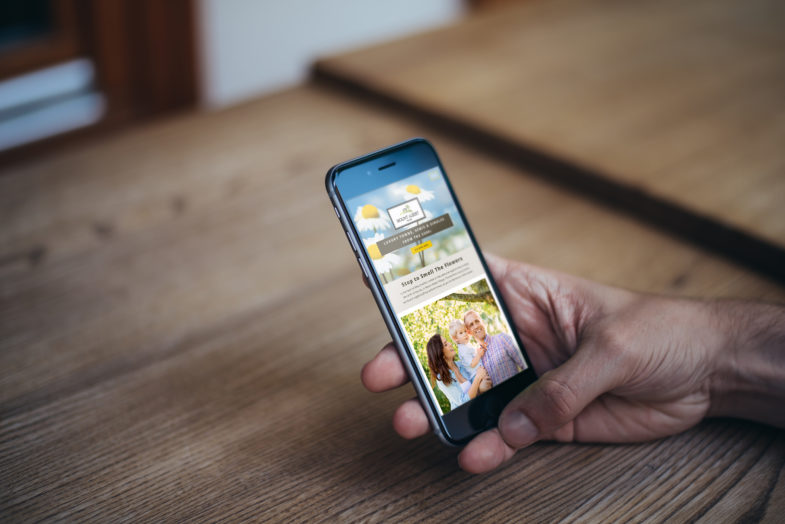 The Mobile Site
So many of registrants are searching for homes on the go so we knew a responsive website was necessary, and the new standard for websites in general.
The mobile site has the same user flow and components as the desktop website, but with a mobile friendly layout.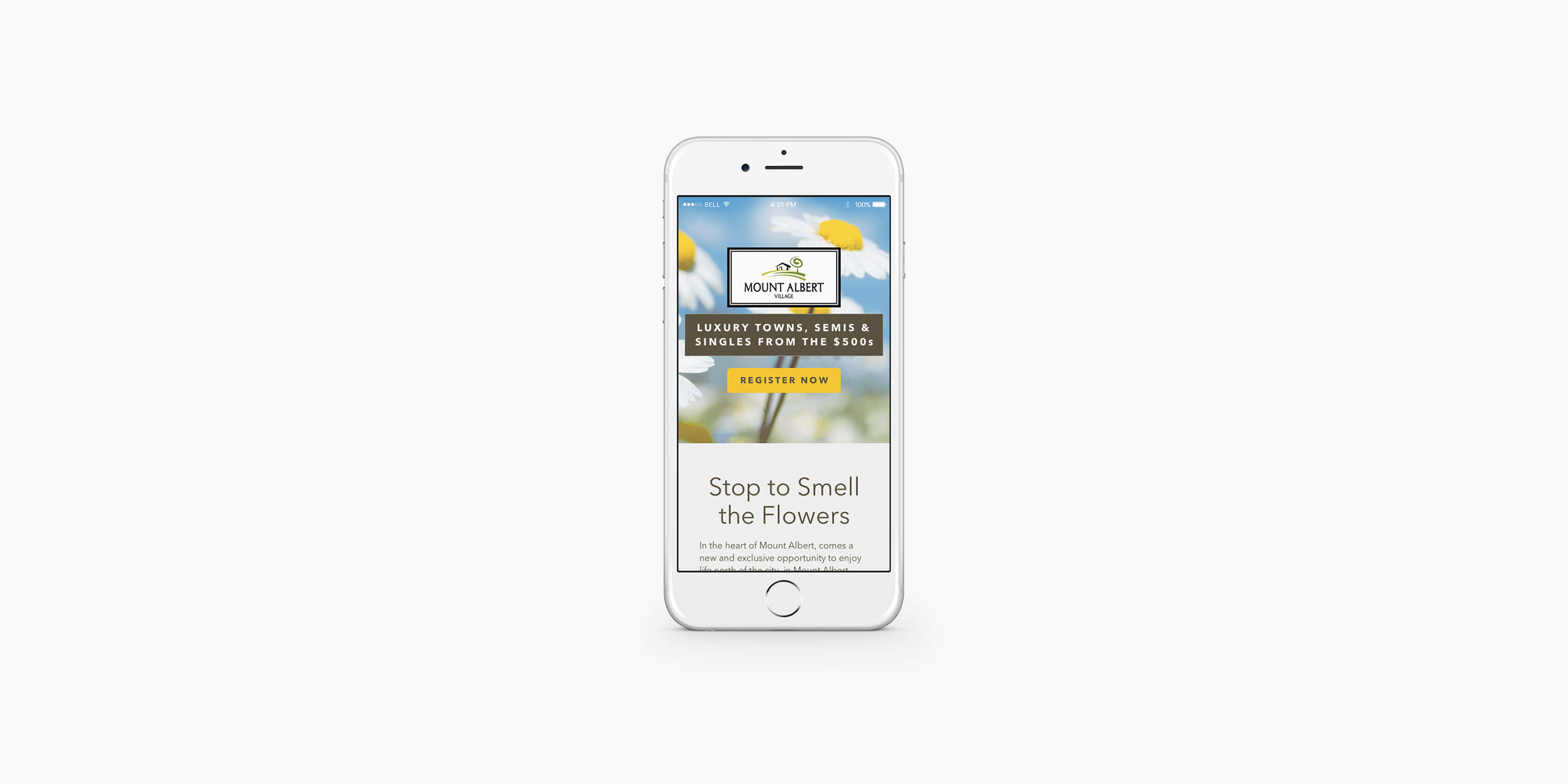 ---
Agency: Maverick
Client: Oxford Homes
Project: Mount Albert Village
Art Direction: Erica Fontana